NEW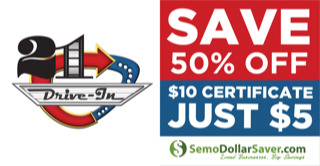 One Adult Ticket or Three Children Tickets
21 Drive In
Hwy 21 North
Van Buren, MO
Retail: $10.00
Our Price: $5.00
This $10.00 Semo DollarSaver certificate is good for one adult ticket/gate pass, or up to three children under the age of 12 at the 21 Drive In, Van Buren. This certificate expires on September 4, 2023. Certificate can not be combined with any other offers.
21 Drive In
Van Buren, MO
Hwy 21 North Van Buren, MO 63965 -
Show Map
The 21 Drive-in is a single screen drive-in theater located on Highway 21 in Van Buren, Missouri. It was open in 1952. The 21 Drive-in is another drive-in success story as after several decades of operation, it was closed in the early 1990's. However, it was re-opened in 1997 and continues seasonal operation to this day. The 21 Drive-in has FM audio for the movies but they still have all their original pole speakers which are in working order.