Sold Out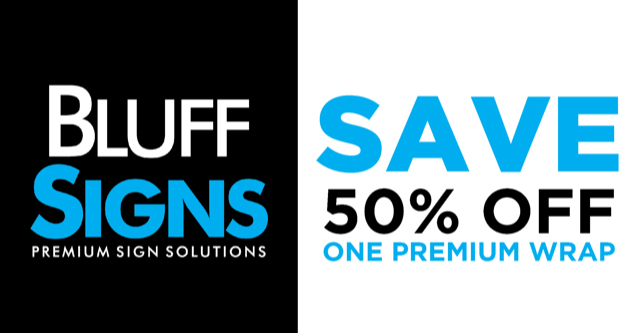 Vehicle or Boat Wrap
Bluff Signs
3028 S. Westwood Blvd.
Poplar Bluff, MO
Retail: $2,500.00
Our Price: $1,250.00
This $2,500.00 Semo DollarSaver certificate is good for one vehicle or boat wrap which includes 2 sides and back of the vehicle/boat. Does not include hood, or roof of vehicle or bottom of boat. This certificate will work for most personal and commercial vehicles in our area. Vehicle cannot be larger than an Econoline Van, or regular full size truck. Boat cannot exceed 26 foot in length or 36 inches in height. Vehicle or boat must be in good condition. If you want to know if your vehicle or boat is in suitable condition, call or go by Bluff Signs today (573) 785-8040. Certificate must be used in 90 days from date of purchase.
Bluff Signs
Poplar Bluff, MO
3028 S. Westwood Blvd. Poplar Bluff, MO 63901 -
Show Map
Did you know that Bluff Signs is more than just signs? They are also Southeast Missouri top business for premium vehicle wraps, and it's not limited to just business cars and trucks. They also can wrap your ATV, hauling trailer, camping trailer and even your boat. So stop by today at Bluff Signs and Let Andrew or Justin help you out with that new look.