Ozark Fitness Family Membership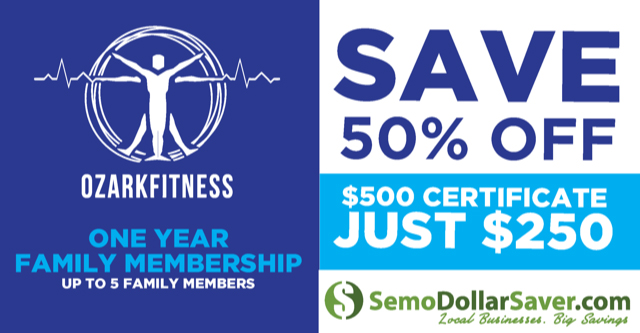 No products to show at this time.
Ozark Fitness Family Membership
Poplar Buff, MO
2725 Westwood Blvd Poplar Buff, MO 63901
Say goodbye to 2020 and the old you and say hello to 2021 and the new and improved you with 50% off your family membership package at Ozark Fitness in Poplar Bluff. Regular price, $500 per year, but with semo-dollarsaver dot com you pay only half price….. only $250 for the entire year for you and your family. You'll get 24 hour gym access, indoor heated pool, separate men's and women's saunas, triaing, group-x classes, one on one training session with a certified trainer and so much more for you and up to four other members of your family. These go on sale Thursday starting at 10:00am at semodollarsaver.com. That's semo-dollar-saver-dot-com.
Ozark Fitness Family Membership
2725 North Westwood Boulevard, Poplar Bluff, MO, USA